Article from Seniorsskiing.com about the Legends Race
March 1, 2018
Youngest "Oldster" Wins Inaugural Ski Museum of Maine Legends Race
Tip Kimball of Cumberland Center won the Inaugural Ski Museum Legends of Maine GS Race for men and women ages 50 and over held at Sunday River on March 6th. Kimball, the youngest in the field at age 58 clocked a time of 36.66 seconds. First place in the Women's Age 50-59 went to Jill Gray of Farmington. The second place finisher was Laurie Gilbert of Greenwood. Winners in the Men's 60-69 division were Michael Becker of Winthrop (1st); Mike Ham of Bowdoin (2nd); and Greg Sweetser of Cumberland (3rd). The gold medal in the women's age 60+ division went to Leigh Breidenbach of Turner; silver to Beth Hodgkins of Newry, and bronze to Wende Gray of Bethel. Paul Rogers of Camden won first place in the Men 70+ division followed by Tom LaHaise of Springfield, Ohio and Bill Hayes of Gloucester, MA. Bill was the oldest racer at age 82. Ginny Bousum of Kingfield was the gold medal winner in the women's 70+ division. Winners received medals at the awards ceremony held at Barker Lodge following the race. Ginny Bousum and Bill Hayes received bottles of Centrum Silver as the oldest racers. Bob Harkins of Bethel, Maine Ski Hall of Fame inductee, received a box of bandaids for his wounded ego. Bob did not place in his division. A green ice wax kit went to Wende Gray, who turned in the slowest time. She gifted the wax to Bill Orr, who came in last in his 70+ division.
1 Tip Kimball 36.66 50+
2 Michael Becker 40.00 60+
3 Mike Hammy Ham 40.90 60+
4 Greg Sweetser 42.00 60+
5 Paul Rogers 42.23 70+
6 Kim Pike 42.27 60+
7 Bede Wellford 45.28 60+
8 Bob Harkins 45.85 60+
9 Tom LaHaise 46.45 70+
10 Peter Dumont 48.61 60+
11 Jill Gray 48.64 50+
12 Bill Hayes 49.26 82!
13 Ginny Bousum 53.24 70+
14 Leigh Breidenbach 53.54 60+
15 Bill Orr 53.97 70+
16 Laurie Gilbert 54.52 50+
17 Bob Duplessie 55.68 60+
18 Beth Hodgkins 1:04.74 60+
19 Wende Gray 1:15.15 60+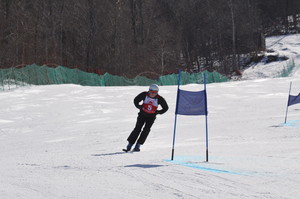 Ginny Bousum rounds the last gate.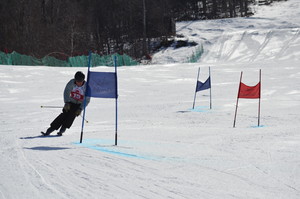 Legend Bob Harkins heading for the finish.